iPhone 13 Wood+Resin

Live Edge Phone Cases

Our iPhone 13 Live Edge cases are simply amazing. We start with a unique piece of burl wood and transform it into a unique piece of art, perfectly shaped to fit and protect your iPhone 13. Every case is one of a kind and made at our shop in Elkhart, Indiana.
Can't find one you like? No more left??
Every product we make is one of a kind, made by our team in Elkhart, Indiana. We make more each day and post them here as we finish them. Our most popular pieces usually sell within minutes of being posted.
If you don't see anything today, check back tomorrow!
Crafted from knots and burls.
A unique wooden case made from a unique process that starts with a knot, a burl or a rough piece of wood. We don't take the straight grain, we start with the crazy stuff. The wood that is normally worthless for just about anything else. We resin stabilize the wood to give it strength and stability. This unique process creates a single, solid piece that shows off the beauty of the wood inside.
We load this piece into our precision CNC and cut out the rough case. This rough case is then sanded smooth, all the way up to a smooth polished finish. Our finishing process brings out the color and grain of the wood. You choose from Silver or Black Anodized Aluminum buttons. The case is then packaged up and ready to wrap your device!
100% made by us.
"This case is simply gorgeous. A lovely, natural feel to it, and it looks simply amazing. Particularly enjoy the very lightly etched grips on either edge of the case, very minimal, doesn't distract from the overall simply design, and reduces the wood's natura slipperiness. Looking forward to seeing this piece of art age with grace. Worth the price!"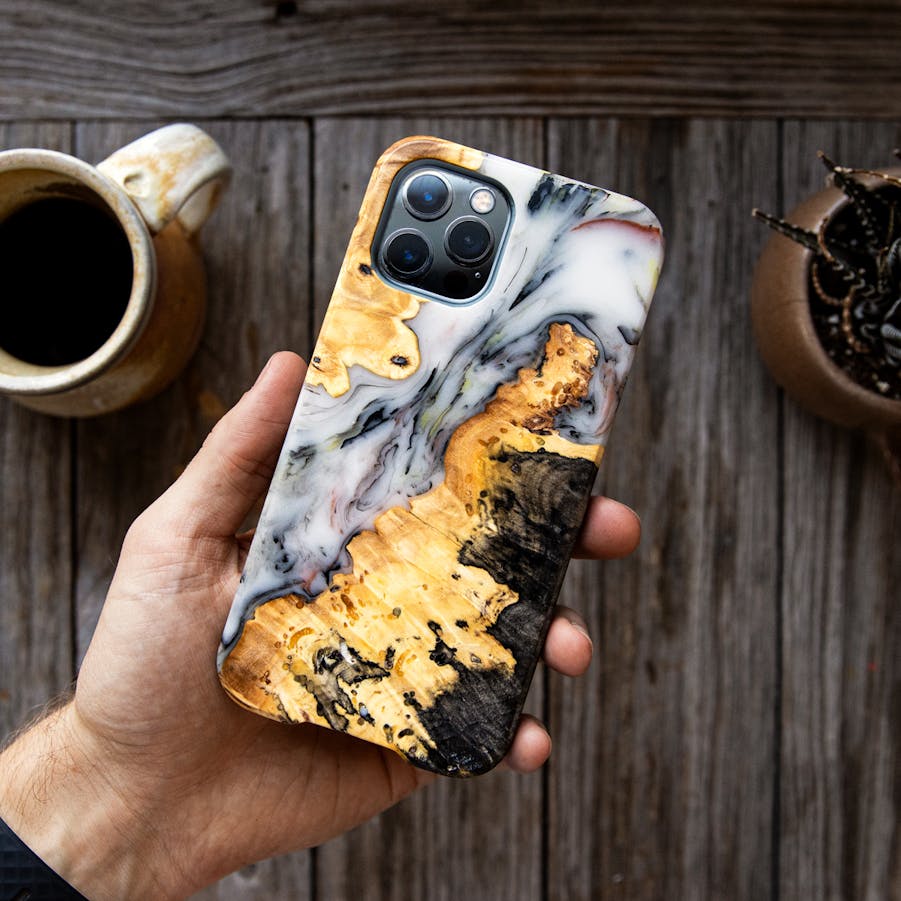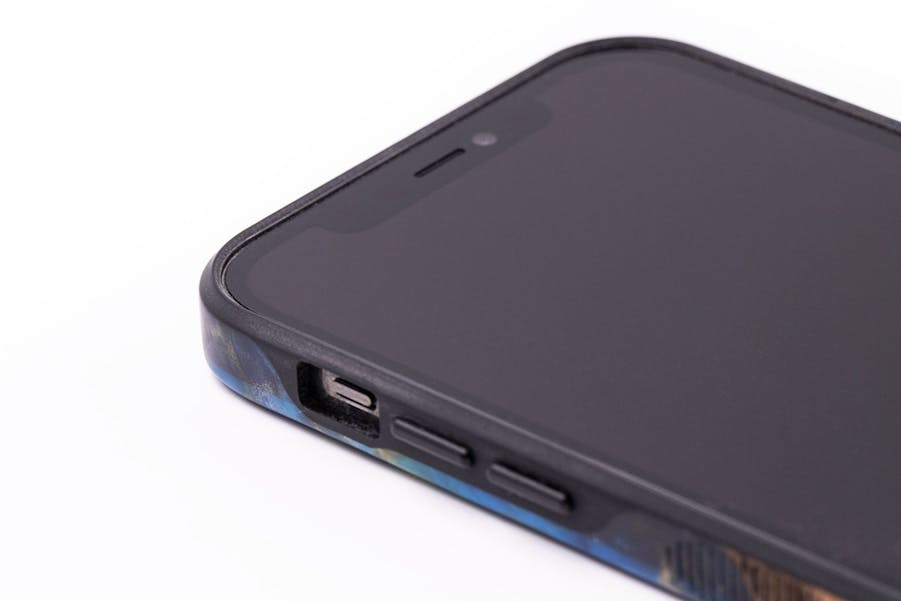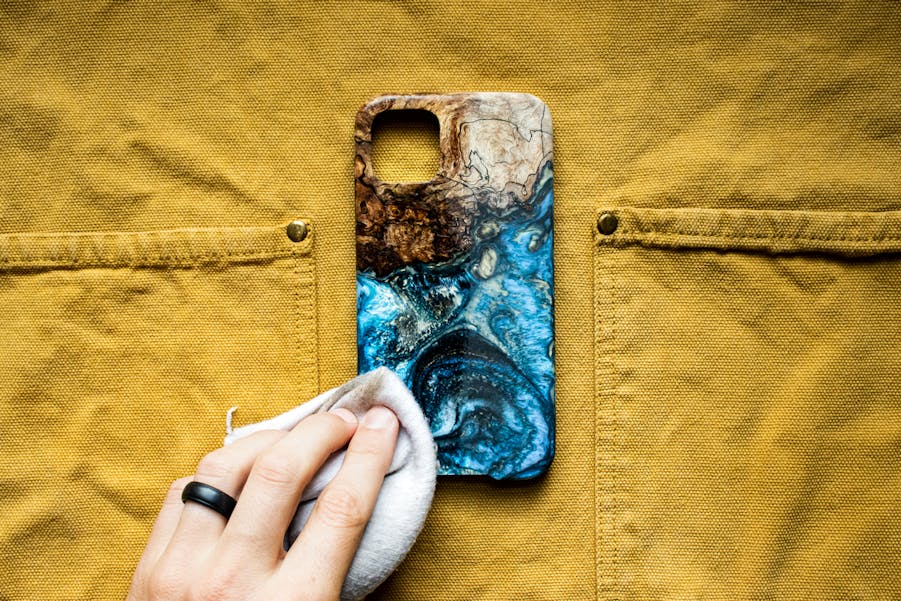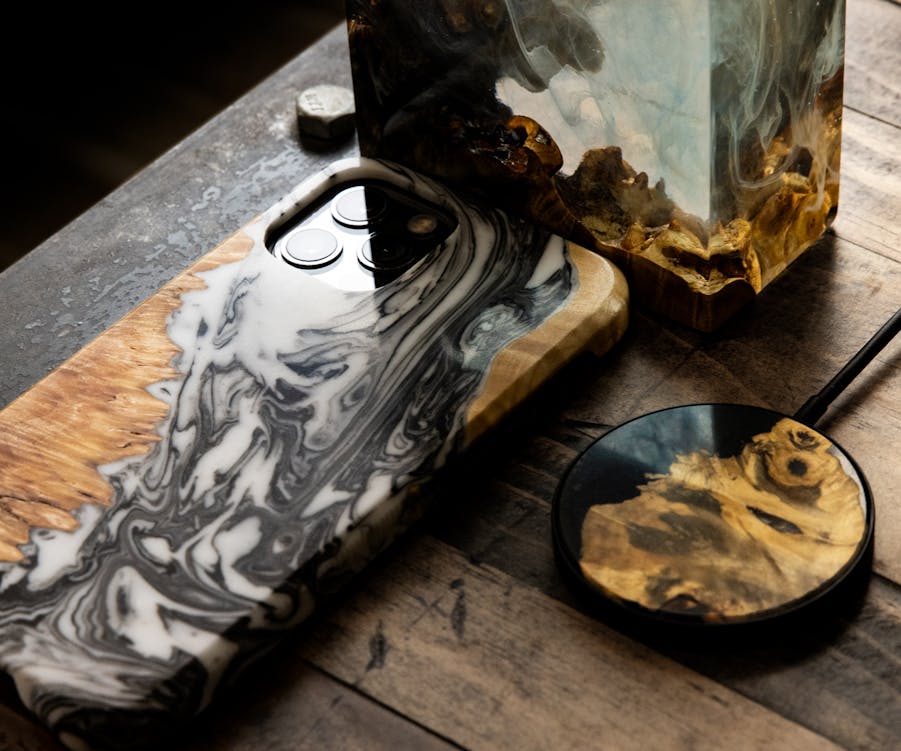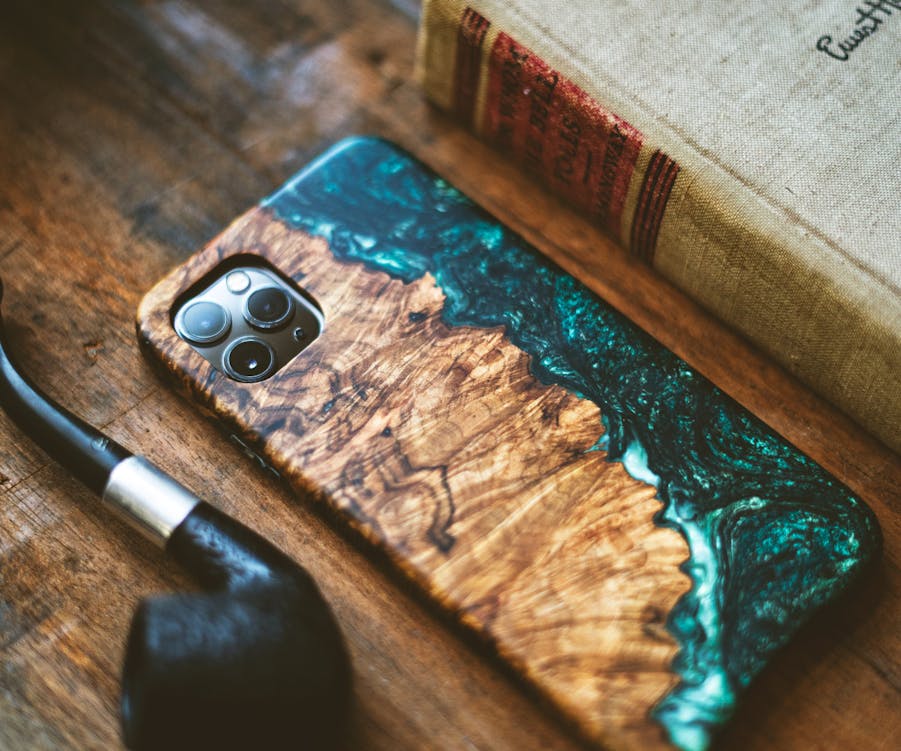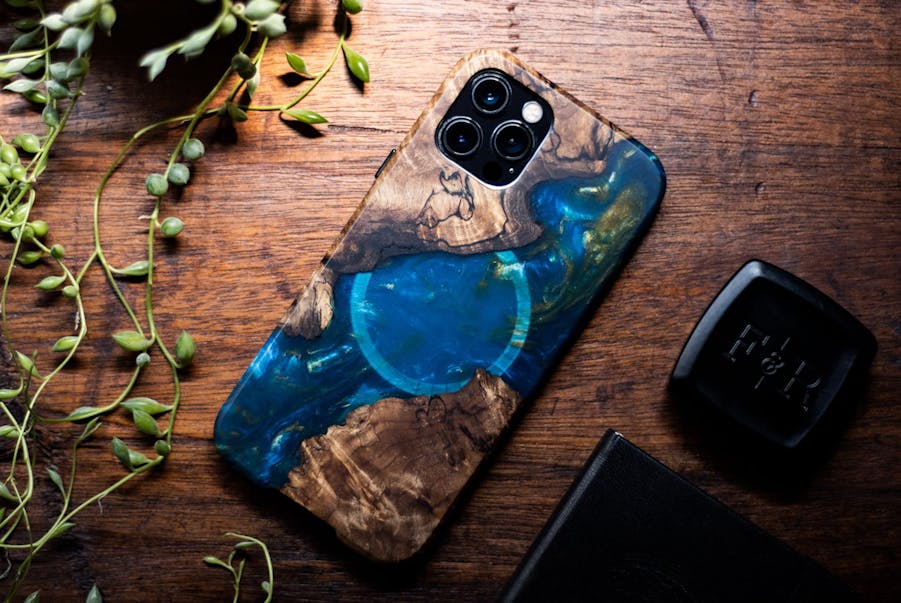 1 of one.
If you want this case, buy it right now. Seriously, until you have finished the checkout process and submitted your payment, someone else could grab it first. And that would make us both sad because it's perfect for you.
Made of wood. Take care of it.
Please do not abuse your new case. If you tend to drop your phone or use it in harsh environments, leave this case at home. Wood is beautiful but it does react to drastic changes in temperature and humidity. We stabilize every piece of wood we use so while this case is much stronger than you would expect, it's still easier to break than a plastic case. Love it gently.
What if it breaks?
Our Satisfaction Guarantee is something that we are really proud of. And it's very simple:
1 Year: 1 Replacement
That means anytime within 1 year after you order your case, if it breaks or is damaged for any reason at all, we will repair or replace it.
How can we offer such an insane warranty?
While this is a wood case, we have a unique hardening process that makes it very durable. Yes, you can still break it, but you don't have to treat it like a Fabergé egg. We understand that you are investing a lot of money into this case and we want you to love it. Part of loving it is knowing that we have your back.
"I was so impressed with the details in the packaging from personal thank you notes to a couple of stickers, then on to the nicely packaged product. What a treat to see this level of detail. The case itself is much sweeter than I expected. The fit is amazing and I keep wanting to put my phone face down just to look at the details of the case. I received several compliments and now my wife wants one. Beware, once you get one case in the house, everyone will want one."
"Truly The Most Gorgeous Case Ever" I have no words. Pictures do NOT do these cases justice. The scent of the wood, the blending and swirling of the colors, the quality and precision. It's literally perfect. I can see myself buying a so many more of these. Not only are they beautifully crafted cases, but they can be come awesome collectibles (if you're a case collector). I've never been into the wooden case craze, but Carved has changed my thoughts and I'm only sticking to Carved!
"Worth the wait" I would check in every so often to see if these were available and I happened to snag this one, it's beautiful, well built and much nicer to use.
I absolutely LOVE my Live Edge case! I now spend as much time looking at the back of my phone as the front! I can't say enough about the quality, style and coolness of this case! I get compliments every single day! So happy I found your site!
"Love Love Love my Live Edge case!" My new live edge case is a piece of art. The price paid is well worth it considering it is a one of a kind piece. I have received plenty of compliments and I continue to tell others to visit carved. Only down side to the live edge case is the availability and the fact that I felt like I had won the lottery the day one was available. :) Great Job Carved!!!
"One of a kind, and worth it!" So I have been a Carved customer for a long time. I got my son a case, I referred friends who saw my cases and loved them. Time for a case. Oh the pressure, going on line, ordering a case you want before it's gone. But I did it!!! Customer service helped me get the case and took such good care of me along the way. I even got my new case in time to show it off on a work trip abroad. The most common question, "What kind of case is that?" I would tell them a wood and epoxy case from Carved. "It's wood???" Yup. So onto what I like about it. The look is great. Blend of style and nature. The fit is great. The buttons work perfectly. You do need fingernails to easily toggle the vibrate/silent switch. The overall feel is what you would expect, solid. Thank you Carved!