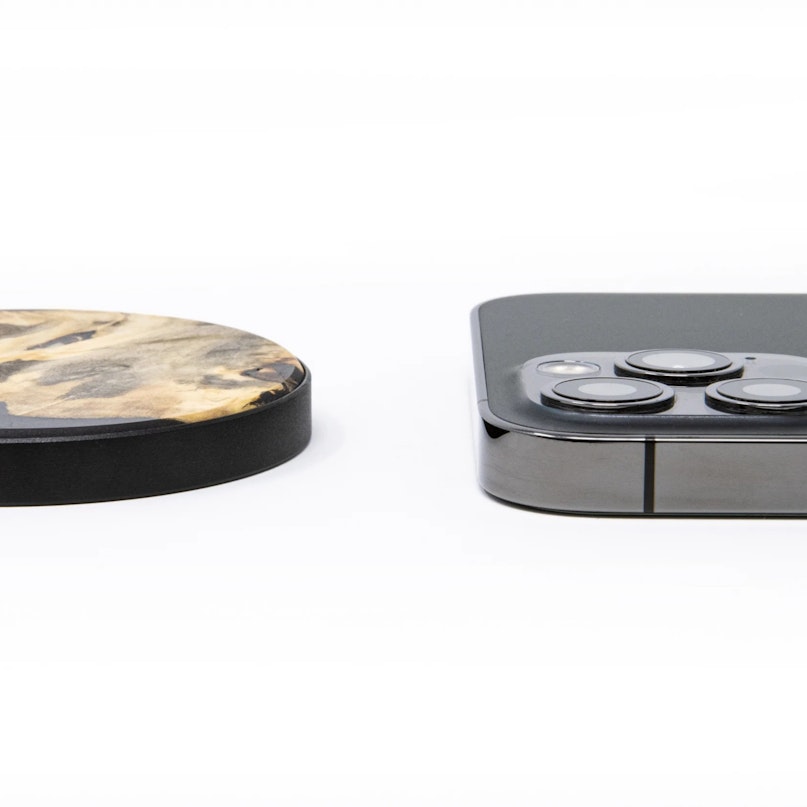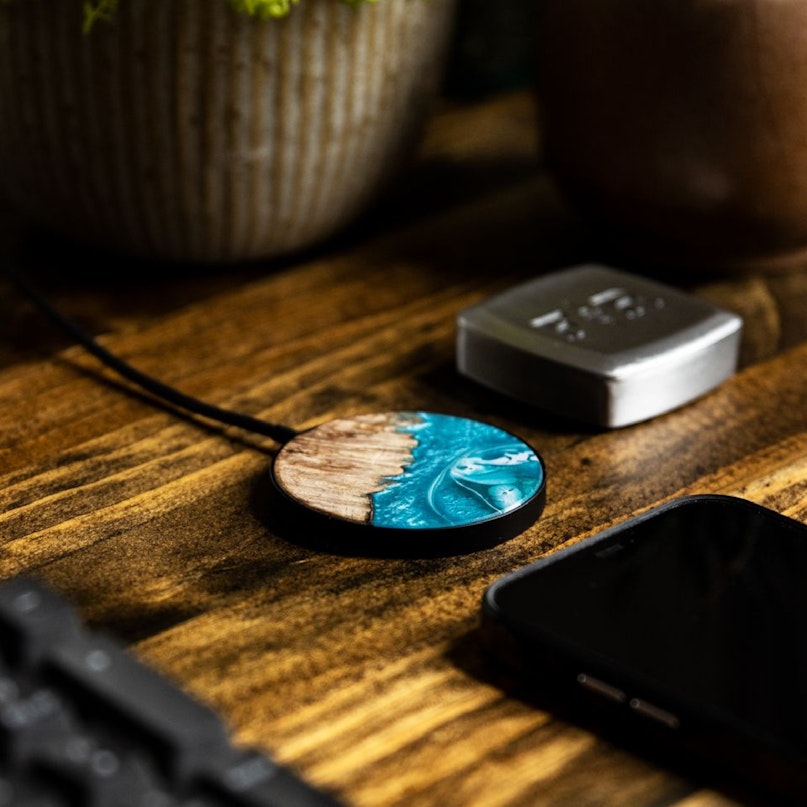 MagSafe Compatible UpgradeIf you choose this option we will add a magnet array to this case that is compatible with any MagSafe accessories.
Free Walnut Burl Traveler Case!It will take us 1-2 weeks to make your Live Edge case. Choose this to get a Free Walnut Burl Traveler Case shipped to you in a couple days. This will keep your phone safe while you wait.
Wireless Charger with MagnetOur Live Edge cases are slightly thicker to protect your camera lens. Our Wireless Charger includes Magsafe compatible magnets to perfectly align with and charge your phone. And it's extra powerful so it works great with thicker cases.
Hold onto your phone!Fits iPhone 14 / Plus / Pro / Max cases only.
MagSafe Enabled Wireless ChargerDesigned to wirelessly charge through thicker cases. Includes MagSafe compatible magnet. Beautiful solid Walnut Burl top, each one is unique!
Add a 20W USB-C Wall Plug
A simple, no-nonsense dual port wall plug that works perfectly with our Wireless Chargers. QuickCharger 3.0 USB + USB-C (
More info
)
Add a matching Classic Bracelet
Get a matching Blackout Bracelet for only $10 with purchase of Stealth Knife, today only! (
More info
)
Add a matching Classic Bracelet
Get a matching Sk8 Bracelet for only $10 with purchase of this phone case, today only! (
More info
)
Features
Videos
Shipping & Returns
Perfectly simple, MagSafe compatible, USB-C, 1 of a kind Wireless Qi charger. CNC machined aluminum body. Every Wood+Resin inlay is unique and made at our shop in Elkhart, Indiana.
Wood+Resin top, Aluminum housing
Includes MagSafe Compatible magnets
Works with thicker cases
USB-C integrated cable (3ft long)
Wall plug not included
Designed, assembled and ships from our shop in Elkhart, Indiana
Shipping
All orders ship from Elkhart, Indiana.
We are currently shipping orders in 1-4 days (excluding Live Edge cases & Pre-orders).
All of our items are made to order and the production times (the time it takes us to make the item) can be found on each product page. A majority of our items are made within 1-3 business days, but double check the product page for accurate and up to date production times.
Returns
We do our best to ensure that each item is high-quality and a product that we can stand behind, but we understand that sometimes it doesn't work out. If your product arrives defective, we sent you the wrong item, or it's just not what you expected - no problem! Let us know within 30 days of the delivery date and we will gladly provide a full store credit or refund.
Our Guarantee
We hope you love our products as much as we love making them! We are all very passionate about what we do and work hard to make some of the coolest, totally natural accessories. If you order from us and something isn't right, or you just really don't like our product, we will make things right.
We proudly offer a 1 year warranty on all of our products.
Our products are manufactured and tested to the highest quality standards and our warranty covers defects in material or workmanship in new products. This warranty extends to the original purchaser only and is non-transferable. We do not guarantee that our products will protect your device from possible damage and offer no warranty beyond that of our products. We do not offer any warranty on your device used in connection with our products.
Don't let the size fool you.
The Carved Qi Circle Wireless Charger might be small but it's quick and powerful.
The Carved Qi Circle Wireless Charging Pad is the perfect complement to your wireless charging enabled device. Just plug the wireless charger into the wall or any powered USB-C port, then put your phone right on top of it.
Works with all the latest Qi enabled devices.
MagSafe Compatible
Our charging pad contains a magnet array that perfectly aligns with all Apple iPhone 12, 13, 14 & 15 models. This makes it easy to position your phone on the pad and ensure optimal charging speed.
Beautifully made.
The body is milled from a solid piece of aluminum so it has more weight than your typical plastic charger. Single high speed Qi charging coil is placed directly below the wood top to keep the charging speed as fast as possible.
The closer your actual phone is to the wireless coil, the faster it will charge. You may need to remove your case from your phone to get an optimal charging speed.
Why we like it
The circular design looks beautiful sitting on your desk or nightstand. If you have an iPhone 12/13/24, the MagSafe magnets will perfectly align with your phone. The Fast Charging Mode really speeds up the charging time (for compatible phones and wall chargers only). Actual charging speed is dependent on the max wireless charging capability for your specific device, some devices will charge faster or slower than others.
Tech Specs
Works with any Qi compatible Samsung, Apple or Google device!
Input: 12V/1.5A, 9V/2A, 5V/2A
Output: 5W / 7.5W / 10W / 15W (Max)
Dimensions: 2.25" x 2.25" x 0.25"
Does not include wall plug
Made in
Elkhart, Indiana
Our team of designers, engineers and artists make every single one of our products at our 100 year old brick building. We mix and swirl colors to complement the huge variety of grain patterns and colors in each piece.