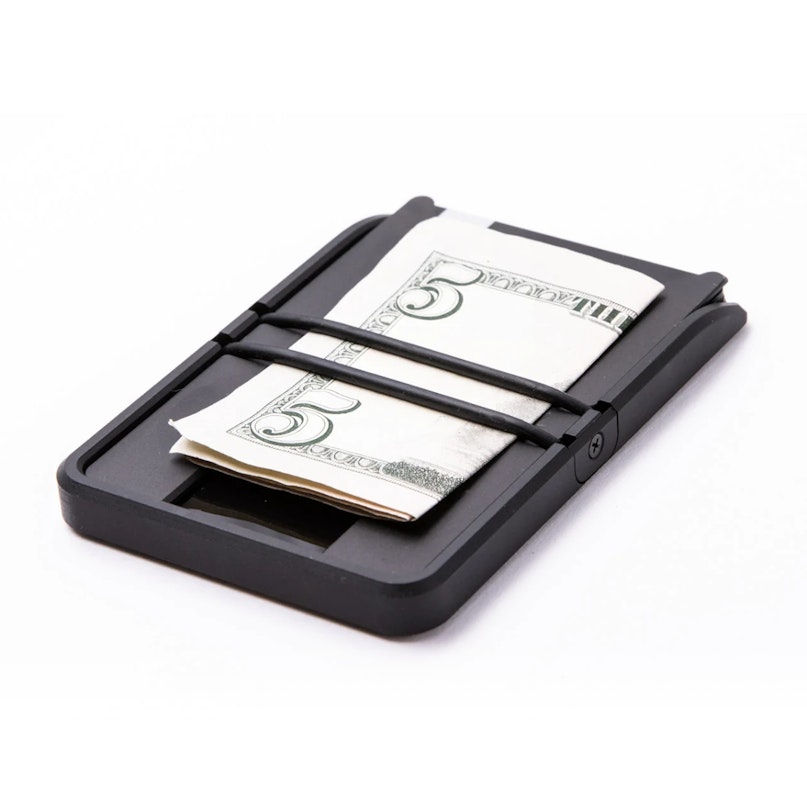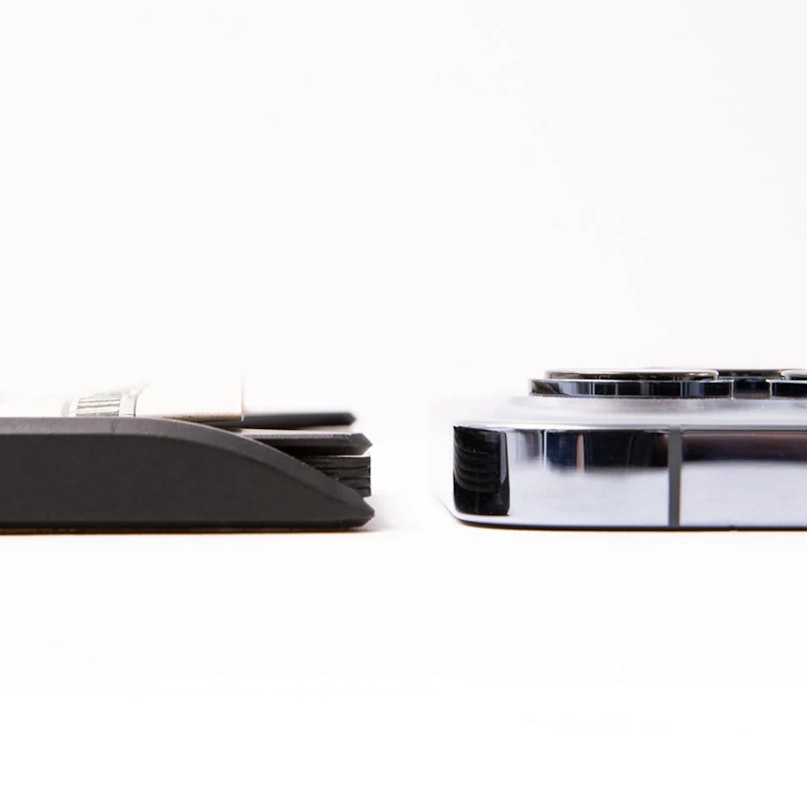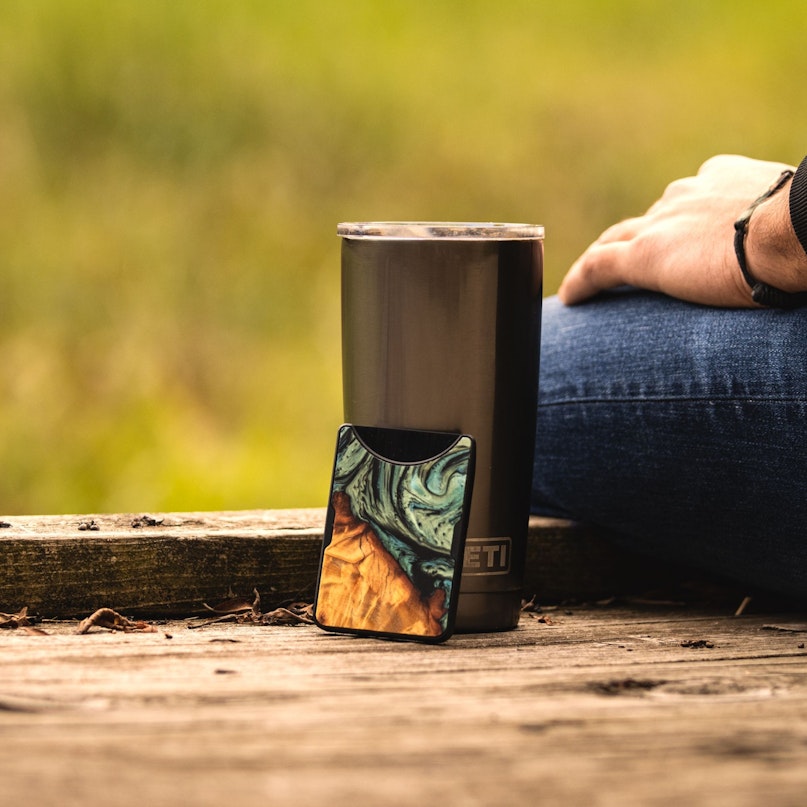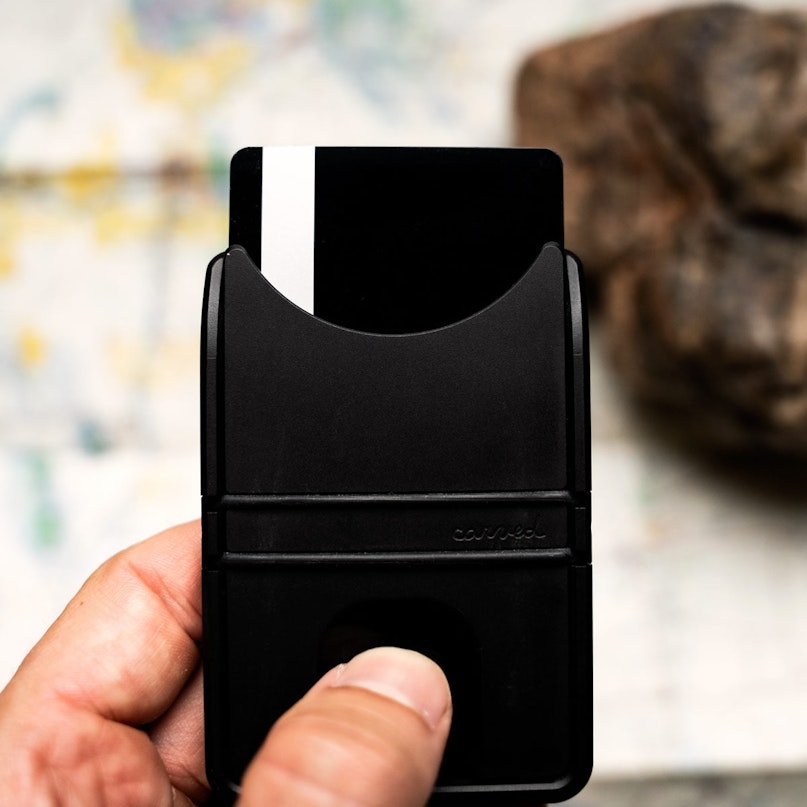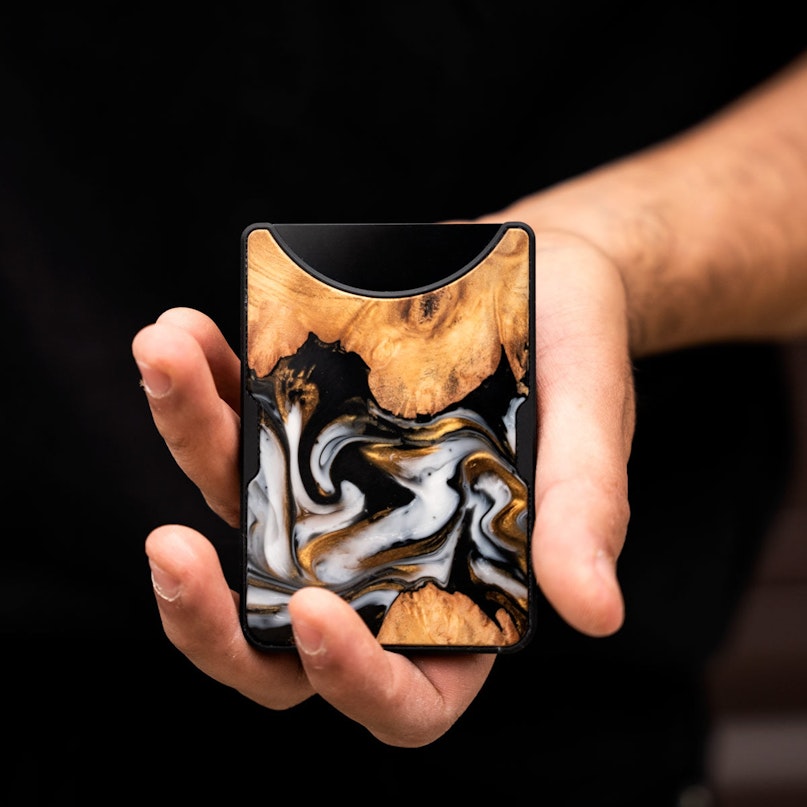 MagSafe Compatible UpgradeIf you choose this option we will add a magnet array to this case that is compatible with any MagSafe accessories.
Free Walnut Burl Traveler Case!It will take us 1-2 weeks to make your Live Edge case. Choose this to get a Free Walnut Burl Traveler Case shipped to you in a couple days. This will keep your phone safe while you wait.
Wireless Charger with MagnetOur Live Edge cases are slightly thicker to protect your camera lens. Our Wireless Charger includes Magsafe compatible magnets to perfectly align with and charge your phone. And it's extra powerful so it works great with thicker cases.
Hold onto your phone!Fits iPhone 14 / Plus / Pro / Max cases only.
MagSafe Enabled Wireless ChargerDesigned to wirelessly charge through thicker cases. Includes MagSafe compatible magnet. Beautiful solid Maple Burl top, each one is unique!
Features
Videos
Shipping & Returns
The Alloy Wallet by Carved is a slim, hard wallet that stands out from the crowd. Securely holds up to 5 cards, plus cash. Precision machined from a single block of aluminum, black anodized with flexible o-ring holding it all together. One of a kind.
Precision machined aluminum body
As thin as an iPhone!
Easily holds 4-5 cards + cash
RFID blocking
Designed, assembled and ships from our shop in Elkhart, Indiana
Shipping
All orders ship from Elkhart, Indiana.
We are currently shipping orders in 1-4 days (excluding Live Edge cases & Pre-orders).
All of our items are made to order and the production times (the time it takes us to make the item) can be found on each product page. A majority of our items are made within 1-3 business days, but double check the product page for accurate and up to date production times.
Returns
We do our best to ensure that each item is high-quality and a product that we can stand behind, but we understand that sometimes it doesn't work out. If your product arrives defective, we sent you the wrong item, or it's just not what you expected - no problem! Let us know within 30 days of the delivery date and we will gladly provide a full store credit or refund.
Our Guarantee
We hope you love our products as much as we love making them! We are all very passionate about what we do and work hard to make some of the coolest, totally natural accessories. If you order from us and something isn't right, or you just really don't like our product, we will make things right.
We proudly offer a 1 year warranty on all of our products.
Our products are manufactured and tested to the highest quality standards and our warranty covers defects in material or workmanship in new products. This warranty extends to the original purchaser only and is non-transferable. We do not guarantee that our products will protect your device from possible damage and offer no warranty beyond that of our products. We do not offer any warranty on your device used in connection with our products.
Simple, strong & unique.
The Alloy Wallet by Carved is a slim, hard wallet that stands out from the crowd. Securely holds up to 5 cards, plus cash. Precision machined from a single block of aluminum, black anodized with flexible O-ring to hold everything in place. The O-ring can easily be removed and replaced. Securely holds 1 card, just as well as it holds 5.
New & Improved Design
We redesigned our Alloy Wallet to use an o-ring instead of an elastic strap to hold it together. This change increases the lifetime of the wallet and makes it much easier to change out the o-ring to adjust.
As thin as an iPhone...
...with the cards in it! We designed our wallet to be as thin and minimal as possible, while still being functional.
Precision machined.
Each wallet is machined from a single block of Aluminum, anodized, laser etched and then we add our unique Wood+Resin slice on the back. We designed our wallet to perfectly fit a standard credit card size, it will safely hold 1 card as well as it holds 5. You can definitely slide more than 5 in but we designed it to be a perfect fit for up to 5 cards.
Each one is unique.
We start with a raw wood burl, dry it, stabilize it, cut to size, add a couple colors of resin together with it in a mold, let it harden, slice it down, sand it smooth, then finish it. Easy as that!
Our manufacturing process ensures that no two wallets are ever the same. We are releasing new slices to pick from every single day so if you don't see the perfect one today, check back tomorrow.
Made in
Elkhart, Indiana
Our team of designers, engineers and artists make every single one of our products at our 100 year old brick building. We mix and swirl colors to complement the huge variety of grain patterns and colors in each piece.
Frequently Asked Questions
How many cards will the wallet fit?
Our wallets will fit 1-5 cards, plus some cash. You can fit more than 5 cards but it will start to stretch the o-ring quite a bit.
Are your wallets RFID blocking?
Yep! They are made from Aluminum which will protect your cards from RFID scanners.
Are your wallets magnetic / work with MagSafe?
Our wallets are made of aluminum and do not include any magnets
Will I get the exact design pictured?
Yes, you will! There is only 1 in the world like it, and once it is purchased it is pulled off of our website so that it can get into your hands.
When do you add more designs?
We add more design each weekday, usually between 11am EST - 2pm EST
Do you have a warranty?
Yes, we offer a 1 year warranty on our products. Learn about our warranty program
here
.
Do you use sustainable packaging?
Yes, we do! We've partnered with Braverly to package each order in a
beautiful canvas bag
. Braverly provides safe, fair paying jobs to empower local women along the Thai/Burma border. Learn more here.