---
You've never felt a wallet like this before.
The Carved Wood Wallet looks and acts like leather but is made from a single sheet of wood. Backed with real cork and hand-stitched for strength. We also developed our own custom wood finish. Made from a secret blend of oils and waxes, it not only protects your new wallet, it smells amazing! 
Available in 2 different styles
The Arbor Folded Wood Wallet is our new take on the traditional bifold design. We've added 2 quick access interior pockets, perfectly sized to give you a little bit of space to easily grab your card or hide away some cash. The Cork lining gives it extra overall strength and a soft internal feel.
Why we like it...
We love the folded over look because it really shows off the beauty and grain of the wood. The folded design keeps everything inside safe and secure. The two quick access inside pockets are a great place to keep your most used cards at hand.
Traditional bifold design

Easily holds cash & cards

Still just as thin!
The Minimalist Wood Wallet is our take on a really simplified carry. We all know you shouldn't sit on a big, bulky wallet (seriously, it's really bad long-term for your back and posture). We also like to keep our keys and phone in our front pockets (separated to avoid scratching).
Why we like it...
This design is the perfect quick and simple carry. It takes a couple days to get used to a smaller wallet because it just feels like you are going to need that random gift card or maybe you'll hit up that chinese restaurant again and get your 5th punch. However, if you are committed to the simple carry lifestyle, this design will be perfect for you. It's also perfect as a business card carrier.
Uber simple design

Perfect for less than 5 cards

Internal hidden cash pocket
Our finish is 100% home-grown and all-natural.
It's important to apply a finish to protect and seal natural wood. We didn't want to use a potentially toxic or chemical based finish on a product that we would use so frequently. We tested a bunch of different finishes but nothing worked like we wanted it to.
Ultimately, we had 2 simple needs for our wood finish:
1) Protection - Wood finish needs to seal the wood to help protect against moisture, spills and all the stuff we get on our hands. It still had to be flexible though. Most of the finishes we tried didn't dry well or created an inflexible surface finish. Our finish had to penetrate the wood, not stay slimy, and protect against excessive moisture and mess.
2) Scent - Almost every single finish we tested (ok, more like 100% of them) had an odor that did not smell good, let alone be something we wanted to constantly have our hands on. Our finish had to do more than just smell good, it had to smell amazing. Like a walk through a beautiful forest on a cool spring evening.
The guy who does all our website development (Bryan) also makes his own beard oil blends on the side. Obviously we couldn't use beard oil but we at least had a starting point. Bryan brought in his epic collection of waxes, oils, and more stuff that we can't even pronounce (all of it 100% organic and safe to apply directly to your skin).
It took us weeks of trial and error but we slowly worked through every crazy combination of essential oils and waxes to finally arrive at the perfect scent. It's a secret blend of 5 different oils and waxes mixed in varying amounts that creates a finish that is protective and smells amazing. When you get your new wallet, close your eyes, give it a sniff, and tell us you aren't transported to the forest!
We think that wood wallets are the perfect complement to a wood phone case. We already make some of the most unique phone cases in the world, so why not get yourself a wallet to match?
4.8 / 5
Customer Reviews
Write a Review
Ask a Question
Filter Reviews:
EVERYTHING
cards
wallet
look
daughter
pocket
couple
burl wood
minimalist
11/28/2019
Alexander K.
United States
Head-Turner You Can Feel Great About!
I love my Carved Minimalist Wallet (I have the beta testing version from right before this current version)! From the countless compliments to the heads that turn every time I pull my thin, modern but extremely classic Carved wallet out, this thing rocks. I've been rolling with it for over three years and as a college student, have put it through the wringer. Not only is the wood still holding up, so are the stitches and the majority of the inner material. While I did receive my wallet at a slight discount for being a tester, this review is my own doing and I would not hesitate to purchase another one of their minimalist wallets at full price!
10/02/2019
Tanille S.
Canada
Amazingly beautiful!
I love it! It's beautiful and well crafted and smells amazing. I thought it would hold at least 5 cards but it only holds 3-4 but it is very well made!
09/21/2019
Irvin V.
United States
great wallet
The picture does no justice to the wallet. Great compact and rugged looking wallet. I needed a simple wallet that looked great and I have found it.
KC
09/17/2019
Kyle C.
United States
Another awesome Carved product
My second carved product and another that I love! The wallet is very well made, compact, and great looking. I was afraid going from a much larger wallet to this that i wouldn't have the space a "needed". Instead I learned how much **** I carry that I don't need! Amazing product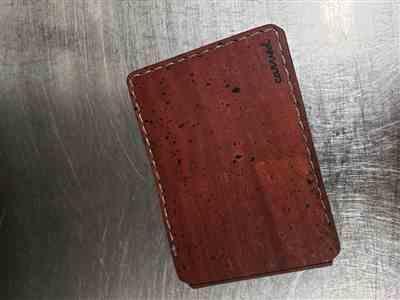 More durable than you may think
I bought one of these for a friend about two years ago. He runs a wood shop and puts just about everything he owns to the test. To my amazement, he has used that wallet daily since he got it and the only sign of wear is a tiny chip missing from the wooden exterior at the fold. He said the pockets don't stretch even if you push the card limit periodically. Remarkably durable and very aesthetically pleasing. Time to get one for myself!
08/27/2019
Jared M.
Australia
Bifold Wood Wallet
Was initially disappointed thinking it felt pretty flimsy. But it's grown on me over the last month and now I love it. Just hoping it lasts. The smell is amazing!