Fast & Free Shipping (USA)
Love it or your money back
The Accessories Collection
---
 A simple, unique bracelet.
Our Wood+Resin bracelet is handmade, unique, and impossible to duplicate- a welcome addition to any wardrobe. This is a bracelet for the storytellers. Those of you who like your jewelry to tell a story and want to be able to talk about what you are wearing. It isn't just a department store bracelet wore by many, but rather an entirely unique, one of a kind bracelet worn by one - You. Delicate, yet demanding - it doesn't go unnoticed and can not be duplicated.
The housing is machined from a solid piece of aluminum, anodized black and then laser etched on the back with a unique serial number. The cord is tied with adjustable knots to make it easy to fit to your wrist. We then inlay a small piece of our Wood+Resin material in the front of the housing. Everything fits together perfectly to make a simple, unique bracelet.
Images shown are representations, each bracelet is unique. You will be receiving a bracelet that is a mix of wood and resin but will slightly different than what's pictured.
Designed for the outdoors.
We use a tough, waxed cord tied to a CNC machined, aluminum body. If you ever break the cord or untie the knots, just tie it back together! Or switch it out with your own cord.
At Carved, the average is never enough. We take the average and create something better, and more beautiful to look at.  We pride ourselves in creating some of the most uniquely crafted wooden items to hit the market. The foundation of our operation has always been about pushing to make something new, something beautiful, and something that resonates with people who are like us: nature lovers, travel addicts, and those with wanderlust.
Not to brag, but we have mastered the marriage between wood and resin. It is an art form that we have learned, tamed, and used to create all of our pieces, including this bracelet. When so many of the things in life are the same, add something that is entirely one of a kind to the mix. The Carved Wood+Resin bracelet is an excellent reminder that nature awaits, tied neatly around your wrist.
Each one has a unique serial number
We started with #1000001 and we've been working our way up. Every single bracelet has a unique serial number that is etched into the back. Your bracelet will truly be 1 of one.
4.7 / 5
Customer Reviews
Filter Reviews:
quality
products
wood
work
company
bracelet
bracelets
gifts
design
three
11/06/2019
Adam W.
United States
Great work!
I love them! Look great!
11/04/2019
András M.
Hungary
I really like it soo
I really like it soo bad! Your products are so gorgeous. ❤️
11/03/2019
Lee J.
Singapore
Great pick up
These bracelet are firstly Very Unique and beautiful, also it goes well with almost any outfit.
10/29/2019
James C.
United States
10/25/2019
Timothy T.
United States
Beautiful
I received my 3 bracelets in the mail and they really are as beautiful as the pictures show. There are cool little sparkles in the resin that the pictures can't even capture. It makes me feel like I'm wearing an expensive stone, but it's wood and that's super cool, cause I love wood! Thank you guys and keep putting out a great product. Tim, P.S. I can't wait to get a new phone so I can try one of your cases! They look amazing!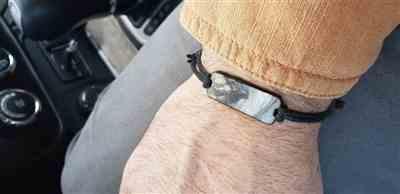 10/23/2019
Valerie B.
United States
LOVE my bracelets!
My pick 3 bracelets are so pretty and came with a little bag to put them into and a sticker! Highly recommend Carved :)