Love it or your money back
The Pixel 3 Cases Collection
---
Simple, unique & protective phone case.
Our Traveler case is everything you need for your phone. We've made it our mission to produce the most unique and original phone cases you've ever seen. We love using natural materials like wood and seashell to create small pieces of art for your phone. We worked hard to find the perfect balance of a protective case and a minimal feel and we think you're going to love it!
How protective is it?
A Carved Phone Case isn't just a pretty face. The outer rubberized shell on each of our cases will keep your phone safe and protected from day to day drops and bumps. We worked hard to find the perfect balance of a protective case and a minimal feel.
We could put a fancy badge here, or make up some snazzy name for our "exclusive" technology, but we think there is one simple way to answer this question.
Almost everyone who works at Carved uses one of our cases on their personal phones. We didn't just design this case to sell it to you, we designed it to use it ourselves.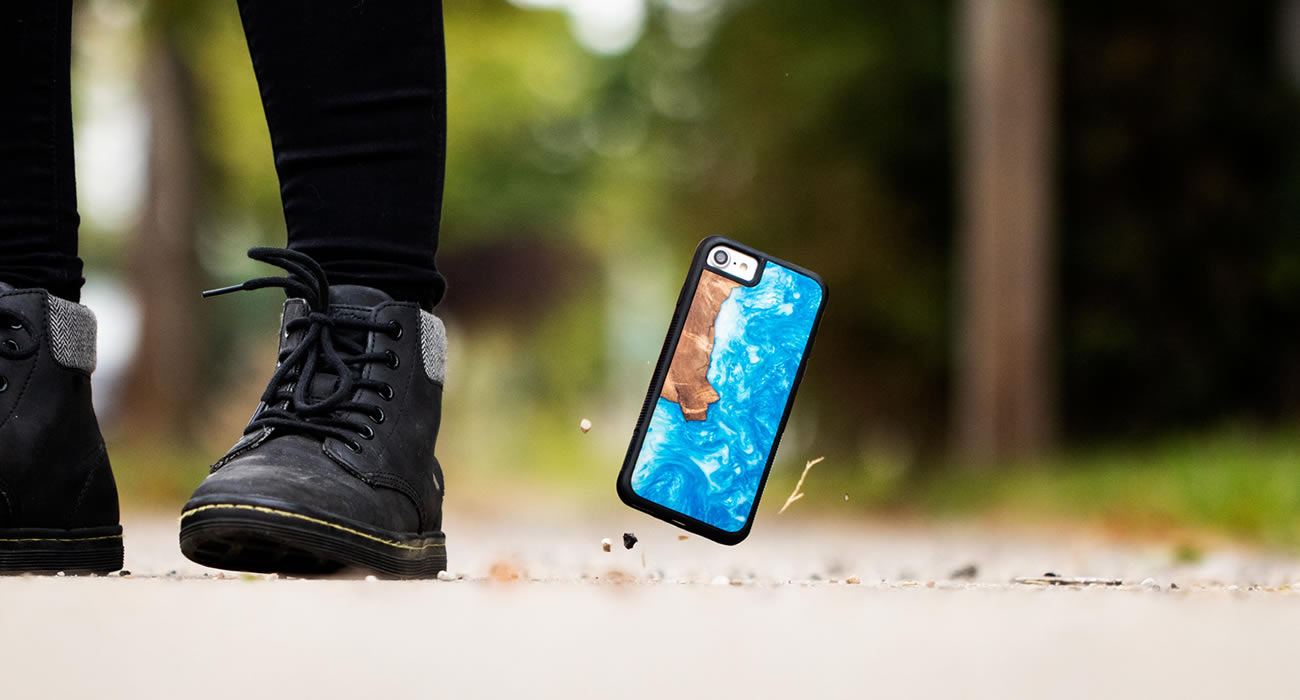 Watch the unboxing...
At Carved we sell one of a kind products that come in useful packaging. As a product designer and manufacturer, it's really important to us that we minimize waste in all that we do.
Watch our unboxing process to see everything you get when you buy a Carved phone case!
Works with Wireless Chargers
Our phone cases are slim enough that they will work fine with most standard wireless chargers (including ours!). Some wireless chargers don't have their charging coil very close to their surface though, if this is the case you may notice your phone not charging consistently and you may need to remove the case to charge consistently.
Completely Unique!
We love working with natural materials because each finished case we make is unique. The grain pattern will react beautifully to lighting changes. The product you receive may have a slightly different pattern than what is pictured. It will be one of a kind.
Natural Feel & Finish
Our finishing process is non-toxic and maintains a natural look and feel to the material. This is an amazing finish that ensures your new case will look great for years to come. Our finish is very hard and will protect the back of your phone against most scratches.
Why do some photos look different?
Our products are made using natural materials which will never be exactly the same and will react to lighting changes. Every case will have a different and unique pattern. We do our best to photograph a variety of grain patterns and lighting conditions to give you the best idea what our product will look like. We love the changing nature of real materials! Your case will look different in the sun than it will inside your house or car. That is what makes our products so beautiful and unique!
4.8 / 5
Customer Reviews
quality
case
grip
phone
something
review
nature
guys
company
08/02/2019
John D.
United States
Best case I've had.
Fits the phone better than any other case I've used and looks better than the photo.
07/10/2019
Renaldy L.
United States
Great price for the quality
I was looking for something that would keep me from buying/pre-ordering the Note 10 which I don't need! I love my note 9 just needed something. I found it in a USA company. Urge to spend crazy money.....gone. I love my case!
07/03/2019
Harsimran S.
India
Nice cover
The work done on the wood is brilliant and was hoping to get a more protective side bumper. Hope there could be an option for custom printing on wood.
05/27/2019
Ralf Z.
Australia
How cool is this...
Hi Carved Team, I got to know about you in some online review about best phone covers. Good review and the concept caugth my attention. That day I went to look at the company history and felt, this is what the US innovation spirit is about. Just fantastic. I am myself from Germany, quality is a must, I envy you US guys for your 'I don't ive up and failure is a way to learn spirit'. Th carved project/idea is something, offering to be different, nature based, a crafty product tackled with and aimed at new technologies. Got my phone cover today after a looong hipping to AUS, love it first view and touch, fits perfectly to my almost outdated Apple SE!!!!!!
Love this case@
I've used this case for the last six months, and it still looks great! The sides of the case provide a LOT of grip, and I couldn't be happier.