Love it or your money back
The iPhone Xs Cases Collection
---
Simple, unique & protective phone case.
Our Traveler case is everything you need for your phone. We've made it our mission to produce the most unique and original phone cases you've ever seen. We love using natural materials like wood and seashell to create small pieces of art for your phone. We worked hard to find the perfect balance of a protective case and a minimal feel and we think you're going to love it!
How protective is it?
A Carved Phone Case isn't just a pretty face. The outer rubberized shell on each of our cases will keep your phone safe and protected from day to day drops and bumps. We worked hard to find the perfect balance of a protective case and a minimal feel.
We could put a fancy badge here, or make up some snazzy name for our "exclusive" technology, but we think there is one simple way to answer this question.
Almost everyone who works at Carved uses one of our cases on their personal phones. We didn't just design this case to sell it to you, we designed it to use it ourselves.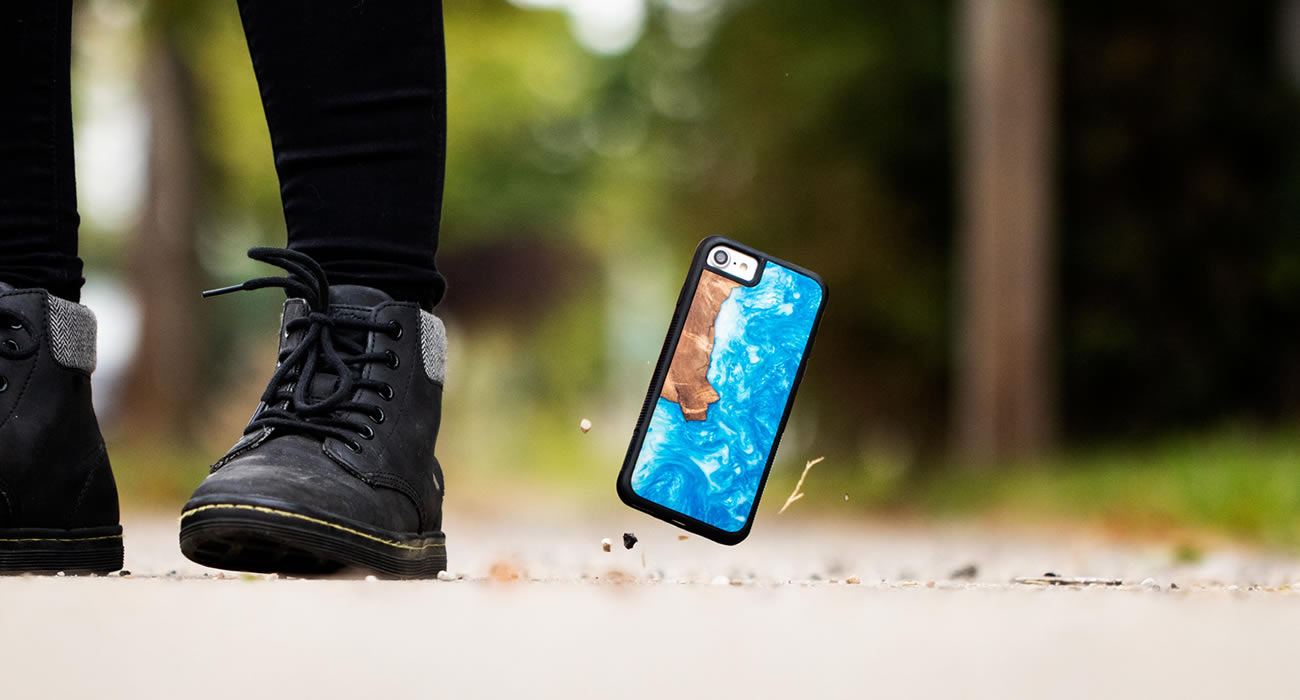 Completely Unique!
We love working with natural materials because each finished case we make is unique. The grain pattern will react beautifully to lighting changes. The product you receive may have a slightly different pattern than what is pictured. It will be one of a kind.
Natural Feel & Finish
Our finishing process is non-toxic and maintains a natural look and feel to the material. This is an amazing finish that ensures your new case will look great for years to come. Our finish is very hard and will protect the back of your phone against most scratches.
Why do some photos look different?
Our products are made using natural materials which will never be exactly the same and will react to lighting changes. Every case will have a different and unique pattern. We do our best to photograph a variety of grain patterns and lighting conditions to give you the best idea what our product will look like. We love the changing nature of real materials! Your case will look different in the sun than it will inside your house or car. That is what makes our products so beautiful and unique!
See it on Instagram!
Tag us (@carved) in your post and we just might feature you here!
4.9 / 5
Customer Reviews
Great product
I actually bought my boyfriend one first about a year ago (found through etsy). Really liked his. So decided to get one myself. Really enjoyed the colors and look of this case so decide to get it. These cases seem sturdy without being bulky. Definitely would refer a friend to carved! Very good products. The packing it comes in is also really nice. P.s wish I could add a photo to the review
Beautiful but I think XR needs more protection & a stand
I upgraded from an iPhone 6 to an iPhone XR in something of a hurry and ordered the Half Dome Print to go along with it. But before the case arrived, I began to discover just how different the XR is from the 6. Surface area is 23% more, weight is 50% heavier, and of course cost is nearly 200% greater. Gradually I realized I was going to need a case with more protection, as well as a stand so I don't have to hold the dang thing as much. I decided to return the Carved case after it arrived. When it arrived, however I found the print is even more beautiful in person than in the web images, and the ridging on the sides solves the slippery-case issue I had with my previous Carved case. It hurts to have to send it back. If Apple goes back to making reasonably-sized and reasonably-priced phones again, I hope Carved will take me back in.
Awesome phone case!!
My wife bought me this case for Christmas and I am more than impressed with it! I have been very excited to show it off to my family and everyone's reaction to how good it looks has been evident. I proposed to my wife in Yosemite, so to have this picture on my phone case with me every day is such a neat thing to have! This is actually my second carved phone case and the first one held up great so of course I expect this one to do the same. By far this is the coolest phone case I have ever owned!!
Highly recommend!
All the cases Carved makes are beautiful. I had a hard time picking one! I ultimately decided on this case with no regrets. It's beautiful, good quality, and ethically made. I don't plan to need another case anytime soon, but when I do, I'll get the joy of picking another Carved case!
Beautiful and slim.
The phone case is beautiful, slim and protective on the sides of the phone. A bit of an adjustment from a silicone case since the plastic is slightly less grippy. The only downfall is that the case does not have a lip on the front to protect the screen when it is laying face down or dropped and lands face down. Overall a good phone case.