Love it or your money back
The iPhone SE Cases Collection
---
Simple, unique & protective phone case.
Our Traveler case is everything you need for your phone. We've made it our mission to produce the most unique and original phone cases you've ever seen. We love using natural materials like wood and seashell to create small pieces of art for your phone. We worked hard to find the perfect balance of a protective case and a minimal feel and we think you're going to love it!
How protective is it?
A Carved Phone Case isn't just a pretty face. The outer rubberized shell on each of our cases will keep your phone safe and protected from day to day drops and bumps. We worked hard to find the perfect balance of a protective case and a minimal feel.
We could put a fancy badge here, or make up some snazzy name for our "exclusive" technology, but we think there is one simple way to answer this question.
Almost everyone who works at Carved uses one of our cases on their personal phones. We didn't just design this case to sell it to you, we designed it to use it ourselves.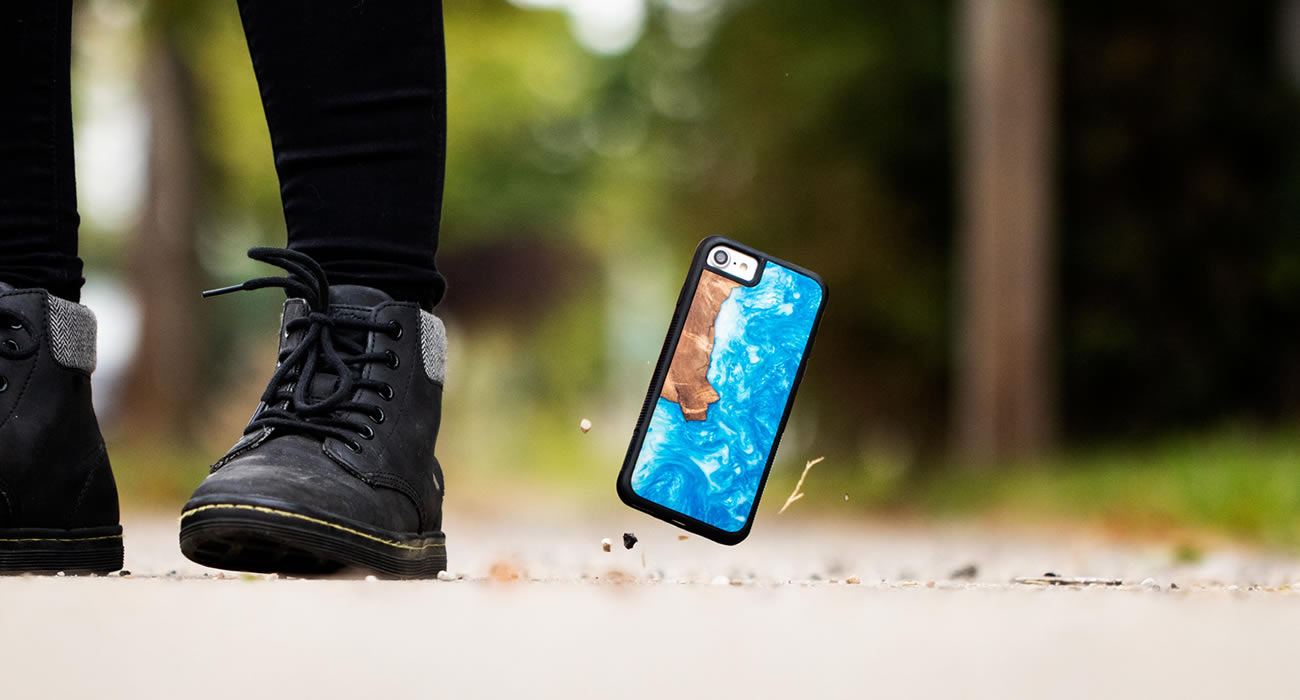 Works with Wireless Chargers
Our phone cases are slim enough that they will work fine with most standard wireless chargers (including ours!). Some wireless chargers don't have their charging coil very close to their surface though, if this is the case you may notice your phone not charging consistently and you may need to remove the case to charge consistently.
Completely Unique!
We love working with natural materials because each finished case we make is unique. The grain pattern will react beautifully to lighting changes. The product you receive may have a slightly different pattern than what is pictured. It will be one of a kind.
Natural Feel & Finish
Our finishing process is non-toxic and maintains a natural look and feel to the material. This is an amazing finish that ensures your new case will look great for years to come. Our finish is very hard and will protect the back of your phone against most scratches.
Why do some photos look different?
Our products are made using natural materials which will never be exactly the same and will react to lighting changes. Every case will have a different and unique pattern. We do our best to photograph a variety of grain patterns and lighting conditions to give you the best idea what our product will look like. We love the changing nature of real materials! Your case will look different in the sun than it will inside your house or car. That is what makes our products so beautiful and unique!
5 / 5
Customer Reviews
case
wood
impact
all
America
price
phone
phone.
thing
design
06/15/2019
Laura S.
United States
It's ok
Took a long time to get it. Overall it's pretty, but would like more variation in the wood grain. Kind of boring.
06/15/2019
Kim B.
United States
Eastern Red Cedar-Wood Phone Case
It was difficult locating an iPhone 5SE phone case until I stumbled upon Carved. I have been pleasantly surprised and incredibly satisfied with this case, so much so that I will buy another item from this company just to show my solidarity and support. YAY for US both!
06/06/2019
Dillon L.
United States
Eastern Red Cedar S9+
The case is awesome and feels great in the hand. Only thing I can think of that may improve the design is to add more bulk to the side buttons. But that itself isn't enough to dock the case any.
Beautiful case and great customer service!
I ordered this case and when it arrived the wood was slightly warped. I emailed them and they sent me a replacement free of charge with no hassle! The case is absolutely stunning and worth the price. I will definitely shop here again.
06/03/2019
Lisa W.
United States
Beautiful case!
My husband loves his new case from Carved - unique, beautiful and functional. Will be getting another one for my phone soon!
06/02/2019
Brian D.
United States
Made in America
Love the product, made in America, low environmental impact of transportation from a foreign country, as well as product resources used such as we renewable wood. what can feel it is excellent. I am recommending into all of my friends and will definitely buy it again for my next phone.I do wish the buttons were slightly more pronounced. Also I do wish that would made up a larger component of the overall product as the reduction of petroleum in the product was something that I thought was cool. Very happy, keep up the great work, and keep the local economy strong!