Fast & Free Shipping (USA)
Love it or your money back
The iPhone 7 Plus Cases Collection
---
Simple, unique & protective phone case.
Our Traveler case is everything you need for your phone. We've made it our mission to produce the most unique and original phone cases you've ever seen. We love using natural materials like wood and seashell to create small pieces of art for your phone. We worked hard to find the perfect balance of a protective case and a minimal feel and we think you're going to love it!
How protective is it?
A Carved Phone Case isn't just a pretty face. The outer rubberized shell on each of our cases will keep your phone safe and protected from day to day drops and bumps. We worked hard to find the perfect balance of a protective case and a minimal feel.
We could put a fancy badge here, or make up some snazzy name for our "exclusive" technology, but we think there is one simple way to answer this question.
Almost everyone who works at Carved uses one of our cases on their personal phones. We didn't just design this case to sell it to you, we designed it to use it ourselves.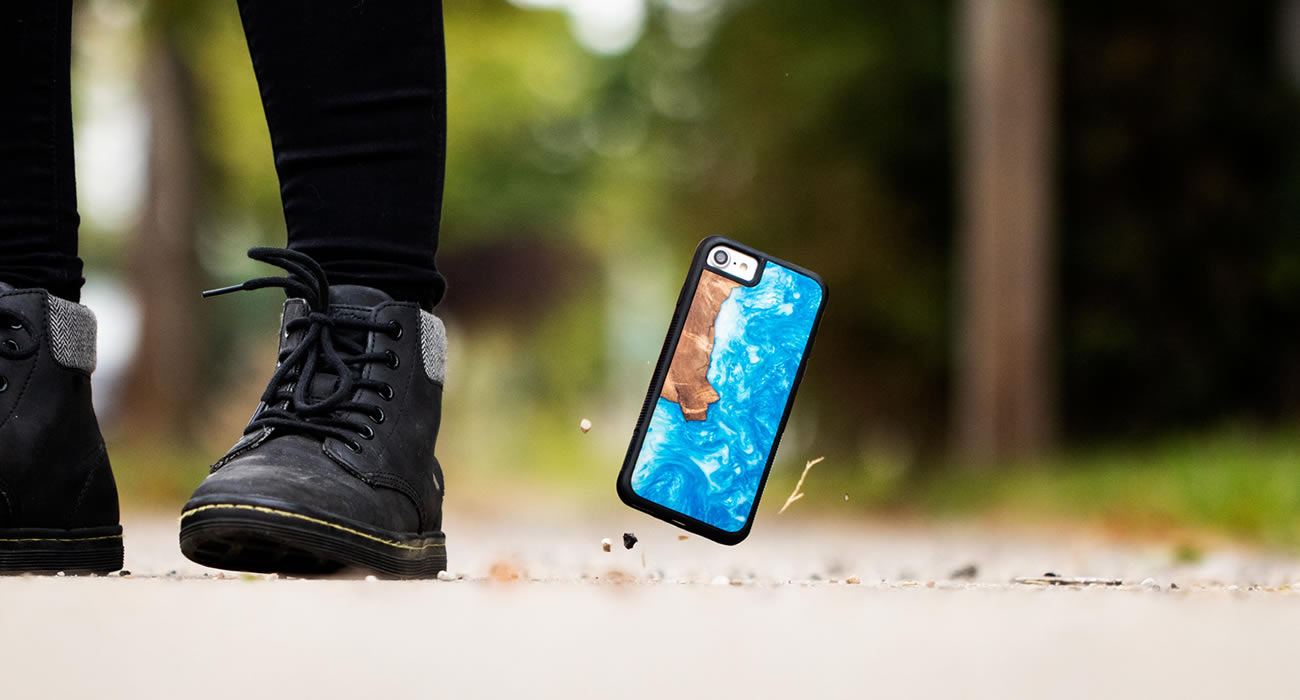 Watch the unboxing...
At Carved we sell one of a kind products that come in useful packaging. As a product designer and manufacturer, it's really important to us that we minimize waste in all that we do.
Watch our unboxing process to see everything you get when you buy a Carved phone case!
Works with Wireless Chargers
Our phone cases are slim enough that they will work fine with most standard wireless chargers (including ours!). Some wireless chargers don't have their charging coil very close to their surface though, if this is the case you may notice your phone not charging consistently and you may need to remove the case to charge consistently.
Completely Unique!
We love working with natural materials because each finished case we make is unique. The grain pattern will react beautifully to lighting changes. The product you receive may have a slightly different pattern than what is pictured. It will be one of a kind.
Natural Feel & Finish
Our finishing process is non-toxic and maintains a natural look and feel to the material. This is an amazing finish that ensures your new case will look great for years to come. Our finish is very hard and will protect the back of your phone against most scratches.
Why do some photos look different?
Our products are made using natural materials which will never be exactly the same and will react to lighting changes. Every case will have a different and unique pattern. We do our best to photograph a variety of grain patterns and lighting conditions to give you the best idea what our product will look like. We love the changing nature of real materials! Your case will look different in the sun than it will inside your house or car. That is what makes our products so beautiful and unique!
4.8 / 5
Customer Reviews
Filter Reviews:
quality
case
wood
order
phone case
cases
thing
purchase
buttons
burl
11/09/2019
terry r.
United States
Maple Burl phone case
Another awesome product. Great wooden case. Comfy rubber gasket.
09/30/2019
Sam C.
United States
Nice wood, decent case
Pleased with the wood back. It's pretty and seems well incorporated in the case. The case is solid and I like the knurling to offset the smoothness of the back. I was surprised to see that I wasn't getting the case in the picture; the wood texture / acrylic pour is so unique to each piece that it should be clearer that I would only get a similar and not identical one. I imagine you pick the nicest one of each batch to show, but that's setting your customers up for disappointment. The buttons on the side are not easy enough to feel and hit accurately. They should be raised from the surface, not just a slight texture difference.
09/15/2019
Brandon W.
Canada
Sleek and Stylish
Much sleeker than my old case. Very slim, but also feels sturdy. The wood makes it really stand out from plastic and rubber cases.
08/30/2019
Alan S.
United States
Freakin Awesome
I very much like the Maple Burl phone case it matches my fancy pen and some friends of mine whom own and operate a small business here in Kansas City "moon men creations" they make hats with wooden bills they use all kinds of amazing types of wood and now I have a hat on order to match my awesome new phone case and fancy pen one thing I would like to possibly see in the near future is some optional custom wood burning words designs etc. thanks for the case
08/09/2019
Kenyon B.
United States
Beautiful case
Perfect fit and beautiful case. Very happy with this purchase.
08/06/2019
Francisco C.
United States
Expectations Exceeded !!!
I can't express enough how impress I am with the quality of the craftsmanship. I highly recommend anyone who's skeptical about purchasing to take the leap of faith, you won't be disappointed. Also, the customer service Carved offers is exceptional. I will definitely be returning and will be promoting Carved to my family and friends, Namaste !!