Love it or your money back
The Galaxy S8 Cases Collection
---
Simple, unique & protective phone case.
Our Traveler case is everything you need for your phone. We've made it our mission to produce the most unique and original phone cases you've ever seen. We love using natural materials like wood and seashell to create small pieces of art for your phone. We worked hard to find the perfect balance of a protective case and a minimal feel and we think you're going to love it!
How protective is it?
A Carved Phone Case isn't just a pretty face. The outer rubberized shell on each of our cases will keep your phone safe and protected from day to day drops and bumps. We worked hard to find the perfect balance of a protective case and a minimal feel.
We could put a fancy badge here, or make up some snazzy name for our "exclusive" technology, but we think there is one simple way to answer this question.
Almost everyone who works at Carved uses one of our cases on their personal phones. We didn't just design this case to sell it to you, we designed it to use it ourselves.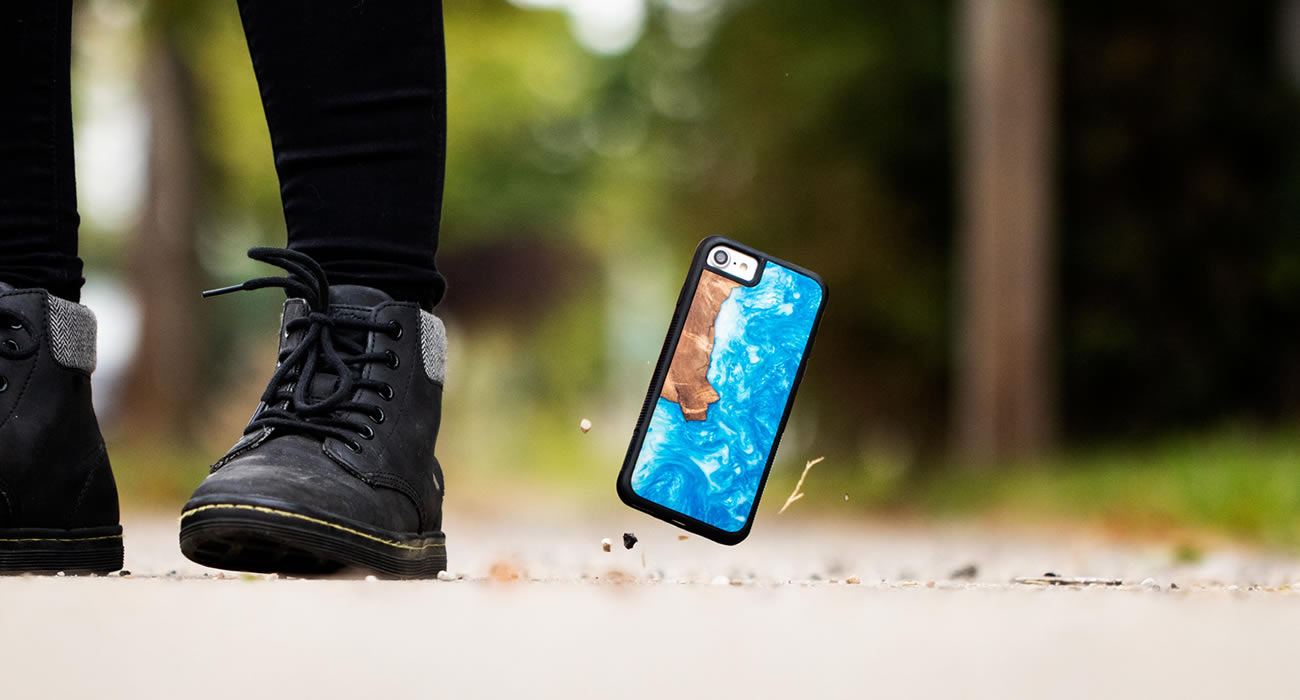 Watch the unboxing...
At Carved we sell one of a kind products that come in useful packaging. As a product designer and manufacturer, it's really important to us that we minimize waste in all that we do.
Watch our unboxing process to see everything you get when you buy a Carved phone case!
Works with Wireless Chargers
Our phone cases are slim enough that they will work fine with most standard wireless chargers (including ours!). Some wireless chargers don't have their charging coil very close to their surface though, if this is the case you may notice your phone not charging consistently and you may need to remove the case to charge consistently.
Completely Unique!
We love working with natural materials because each finished case we make is unique. The grain pattern will react beautifully to lighting changes. The product you receive may have a slightly different pattern than what is pictured. It will be one of a kind.
Natural Feel & Finish
Our finishing process is non-toxic and maintains a natural look and feel to the material. This is an amazing finish that ensures your new case will look great for years to come. Our finish is very hard and will protect the back of your phone against most scratches.
Why do some photos look different?
Our products are made using natural materials which will never be exactly the same and will react to lighting changes. Every case will have a different and unique pattern. We do our best to photograph a variety of grain patterns and lighting conditions to give you the best idea what our product will look like. We love the changing nature of real materials! Your case will look different in the sun than it will inside your house or car. That is what makes our products so beautiful and unique!
See it on Instagram!
Tag us (@carved) in your post and we just might feature you here!
4.9 / 5
Customer Reviews
pictures
quality
case
phone
water
day hike
Acadia
wood cases
affinity
Tetons
06/20/2019
Rizkiansyah -.
Indonesia
This Is How Much I Love the Case
I just got my case! This is faster than i thought. I'm so impressed with this whole thing. Love the background, the design, everything. My birthday is next month and i'm glad i get this case faster, it was like a gift for myself. Thank you for your team hardwork, i really appreciate it.
06/19/2019
denise r.
United States
My phone case of half
My phone case of half dome is absolutely beautiful. I have been going to Yosemite a couple of times a year for quite some time. I was very impressed with how quickly I got it. You guys are doing a great job.
06/17/2019
Sarah T.
United States
Totally Recommend!
I bought this case to replace a wooden case I only bought on Amazon a few weeks ago that left the top and bottom of my phone exposed. It was also very slippery, and I didn't trust my new phone to be protected with that case. My husband showed me Carved, and as soon as I put my new Half Dome case on, it was like a breath of fresh air. It is smooth, durable, has good grip, and looks awesome! I would definitely recommend to anyone in search of a stylish but durable phone case!
06/16/2019
Kristin K.
United States
Love it!! So beautiful and
Love it!! So beautiful and unique.
06/09/2019
James L.
United States
Half Dome is INCREDIBLE!
Blown away by the Half Dome case. The artistry is amazing. I've had it on my phone for a week and so far the case seems very durable.
06/06/2019
Judy V.
United States
Half dome wood phone case
It's great- I love it