---
 A simple, unique bracelet.
Our Wood+Resin bracelet is handmade, unique, and impossible to duplicate- a welcome addition to any wardrobe. This is a bracelet for the storytellers. Those of you who like your jewelry to tell a story and want to be able to talk about what you are wearing. It isn't just a department store bracelet wore by many, but rather an entirely unique, one of a kind bracelet worn by one - You. Delicate, yet demanding - it doesn't go unnoticed and can not be duplicated.
The housing is machined from a solid piece of aluminum, anodized black and then laser etched on the back with a unique serial number. The cord is tied with adjustable knots to make it easy to fit to your wrist. We then inlay a small piece of our Wood+Resin material in the front of the housing. Everything fits together perfectly to make a simple, unique bracelet.
Images shown are representations, each bracelet is unique. You will be receiving a bracelet that is a mix of wood and resin but will slightly different than what's pictured.
Designed for the outdoors.
We use a tough, waxed cord tied to a CNC machined, aluminum body. If you ever break the cord or untie the knots, just tie it back together! Or switch it out with your own cord.
At Carved, the average is never enough. We take the average and create something better, and more beautiful to look at.  We pride ourselves in creating some of the most uniquely crafted wooden items to hit the market. The foundation of our operation has always been about pushing to make something new, something beautiful, and something that resonates with people who are like us: nature lovers, travel addicts, and those with wanderlust.
Not to brag, but we have mastered the marriage between wood and resin. It is an art form that we have learned, tamed, and used to create all of our pieces, including this bracelet. When so many of the things in life are the same, add something that is entirely one of a kind to the mix. The Carved Wood+Resin bracelet is an excellent reminder that nature awaits, tied neatly around your wrist.
Each one has a unique serial number
We started with #1000001 and we've been working our way up. Every single bracelet has a unique serial number that is etched into the back. Your bracelet will truly be 1 of one.
4.8 / 5
Customer Reviews
Write a Review
Ask a Question
Filter Reviews:
customer service
order
company
phone case
wallet
bracelets
friend
website
beauty
five
07/27/2020
Linda M.
United States
Beautiful and well made
These bracelets are uniquely beautiful. My daughter selected one for her best friend, one for me, and one for herself. The bracelets are light weight and easy to wear. The adjustable bands work well for different sized wrists. I recommend these to anyone who likes quality unique jewelry.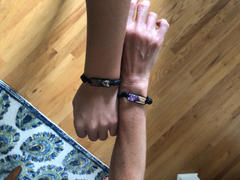 07/25/2020
Michael M.
United States
Love them !
Got the bracelets ....one for my wife , daughter and myself . We love them and will be purchasing more . They look great . Thanks !!
07/20/2020
Felipe P.
United States
DL
07/18/2020
Dan L.
United States
Perfectly simple, yet stunning, bracelets!
Got these little gems for my son and future daughter-in-law. He's in the Army and the 4th of July bracelets are perfect to help them feel a bit more connected across the miles right now. Thanks for doing amazing craftsmanship at Carved.
07/17/2020
Angela V.
United States
Amazing
They were for my kids (both older teenagers) and I! We absolutely love them, haven't taken them off since they arrived!